Our history


A story from reality!

Once upon a time... "Askungen" is Swedish for Cinderella, which makes sense when you know what our business is. Askungen specialises in wood fuel ash recycling – creating beauty amongst the ashes. A sort of Cinderella 'rags to riches' story for founder Bo Pedersen.

Askungen Vital AB is a genuine family business based in Markaryd, with operations throughout southern and central Sweden. The company has grown by over 40-years of work in the forest by logging, sprouting etcetera.

From 1962 to 1990 Bo Pedersen worked with lumbering at a company he ran with his siblings. Bo early decided to become involved in the ash-recycling.

1990 Forestry Board announced after a interested lime spreader and shortly thereafter Bo himself began to spred lime on clearings and started the company Askungen Vital. After 15 years environmental thinking he took a step further and started working with wood ash recycling.

Nowadays the company is run by his son Henrik and daughter-in-law Karina. Since 1997, we are focused on ensuring the forests future by helping it with ash recycling and liming.

We know how to spread in the forest without causing damage to land or trees. Bo Pedersen's long experience has been transferred to his son Henrik and the other machine drivers. Bo is a pioneer in Sweden, which by his targeted stubbornness persuaded both researchers and regulators in the perception that the ash is great for the forest.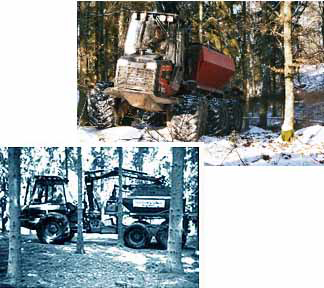 History - Askungen Vital year by year


1962 Bo Pedersen started working in the family's contracting company.

1990 Bo Pedersen spread lime together with Lars-Göran Turesson from Forestry Board.

1994 Bo Pedersen begun to mix and spread lime and ash, in cooperation with the Forest Service.

2000 Askungen Vital AB is born.

2003 Henrik Pedersen becomes co-owner and employee of Askungen Vital.

2006 Karina Pedersen becomes employed as the head of the administration.

2007 Collaboration between Gunnar Thelin, Ekobalans and Askungen Vital begins.

2011 Askungen Vital became certified in ISO 9001, ISO 14001 and PEFC.

2016 Henrik Pedersen and his wife Karin
a takes over the company.